Avid users of Microsoft Word know the option to track changes within a document. The function is always helpful when changes are to be made visible to a third person. Comments can also be inserted in this way without appearing directly in the text. Google Docs also offers tracking of changes in the document.
Google Docs: Track Changes
Why track changes in a Google Docs document? For example, you're proofreading a term paper for a friend and don't want to just change the author's text. If the option to track changes is activated, the author immediately recognizes what has been changed and where and can learn from it. In addition, comments can be inserted more easily and clearly in Google Docs.
Google Docs: Track Changes
This function is also suitable for collaborative work in teams. If several people maintain a file, it can be important that changes are first checked by others. Google Docs calls this function suggesting and allows changes to be made visible, comments to be made, and comments and changes to be discussed. This makes collaboration easier, especially in teams, and reduces the need for additional meetings.
Step 1: Activate suggestion
The function is hidden via the Edit button at the top right under the Share button. The Google Docs file must be set from Edit to Suggest . Then all changes are made visible and can be tracked.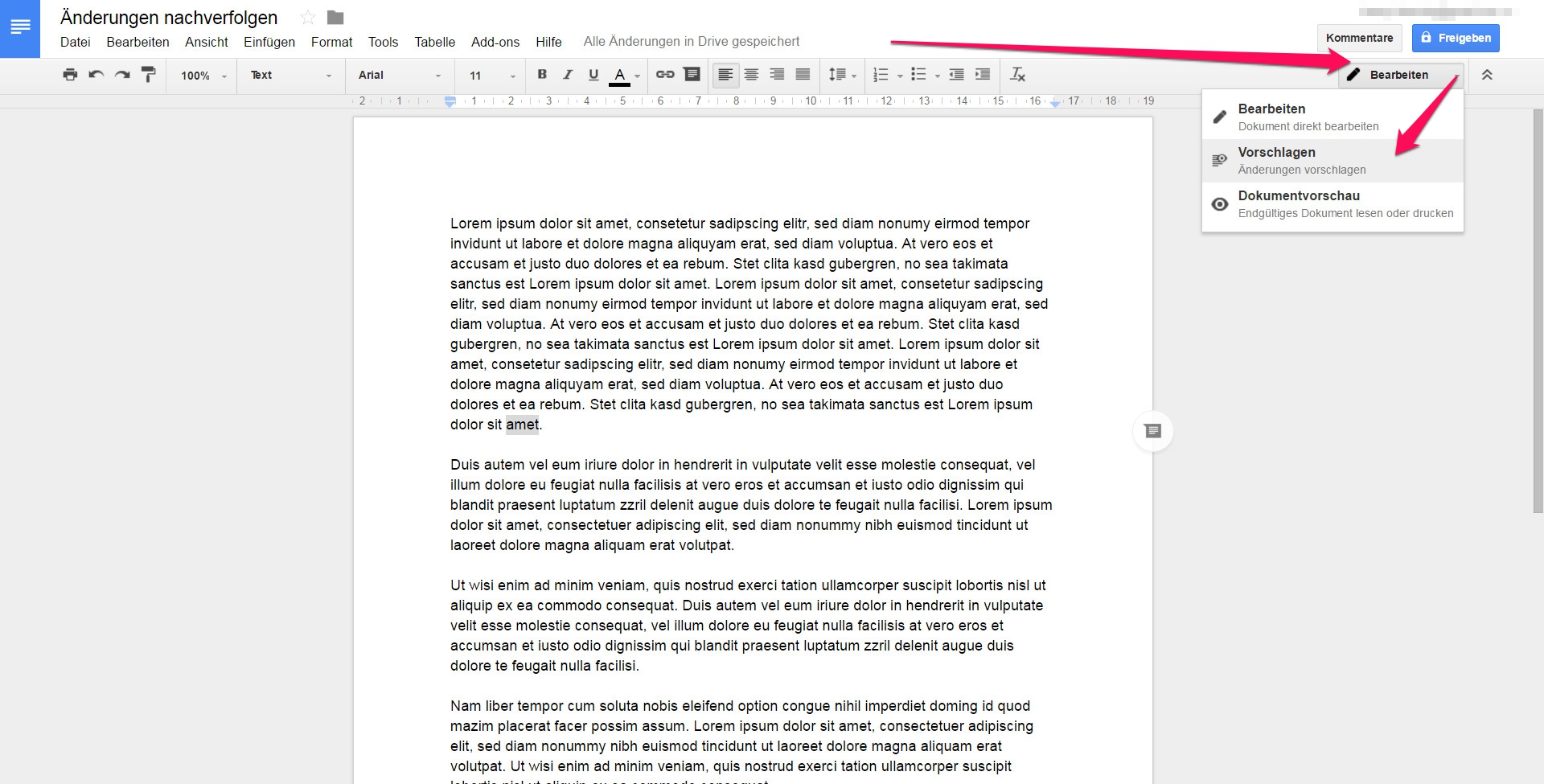 As long as suggesting is active, every correction and change leads to a corresponding note on the right-hand side of the document. The changes can be accepted or rejected using the light gray tick.
In addition to the changes, comments can also be recorded. As soon as a piece of text is marked with the mouse, a small symbol with add a comment appears .
Google Docs also shows added comments on the right-hand side. The author can set this to clarify , which means as much as edited.
If a comment or a change is unclear, it can be discussed using the Comments button . As a result, different issues are clearly separated and every change can be clarified through a discussion without making the document confusing.
The Propose feature in Google Docs is very similar to the Track Changes feature in Word. This makes it much easier to work together on documents.
Personal opinion
The Office functions from Google Drive cover the basic range of functions for most users. Here and there, however, functions for power users are missing. Especially for students who write term papers or theses, Google Docs will still lack some functions for the correct formatting of the document.
Do you already know the Q&A function in Google presentations ? This allows the audience to send in questions during a presentation or lecture. Questions can be highly rated by other viewers and the speaker can then decide which questions should be answered.
Keywords:
google docs login

google docs dark mode

google docs templates

google docs resume template

google docs app

google docs download

google docs strikethrough

google docs word count

google docs apa format

google docs add to outline

google docs asd

google docs api

google docs alphabetize

google docs add ons

google docs alternative

a google docs account can be created

a google docs app

a google docs offline

is google docs down

using google docs

is google docs secure

is google docs anonymous

from google docs to pdf

google docs brochure template

google docs border

google docs business card template

google docs budget template

google docs blank

google docs background image

google docs book template

google docs background color

google docs calendar

google docs cover letter template

google docs classroom

google docs calendar template 2021

google docs calendar template 2022

google docs checklist

google docs code block

google docs checkbox

c.docs.google.com youtube

blood c google docs

the o.c google docs

c'est quoi google docs

google docs c quoi

google docs desktop

google docs down

google docs dark mode firefox

google docs download mac

google docs document outline

google docs delete page

d&d google docs template

tenacious d google docs

initial d google docs

d&d google docs character sheet

d'nealian font google docs

d&d sheet google docs

d&d campaign template google docs

d&d character sheet google docs template

google docs editors

google docs excel

google docs envelope template

google docs extension

google docs edit history

google docs em dash

google docs endnotes

google docs equation editor

e signature google docs

wall-e google docs

wall-e google docs mp4

e sign google docs

e accent google docs

e.t google docs

e portfolio google docs

wall-e google docs english

google docs free

google docs forms

google docs fonts

google docs flyer template

google docs for students

google docs footnotes

google docs folders

google docs flowchart

control f google docs

christiane f google docs

dbz resurrection f google docs

control f on google docs app

f the prom google docs

google docs graph

google docs grammar check

google docs grammarly

google docs glitch

google docs graphic organizer

google docs gantt chart

google docs glitch 2021

google docs games

google docs hanging indent

google docs highlight shortcut

google docs header

google docs how to change margins

google docs how to add to outline

google docs help

google docs history

google docs headings

h ps //docs.google.com/forms/d/e/

google docs invoice template

google docs insert text box

google docs icon

google docs image caption

google docs in google classroom

google docs insert signature

google docs invitation template

google docs indent second line

is google docs free

is google docs not working

is google docs a pdf

is google docs offline

is google docs a wiki

google docs journal

google docs jump to section

google docs journal template

google docs justify

google docs jump to page

google docs jeopardy template

google docs job application template

google docs job description template

google docs keyboard shortcuts

google docs keeps crashing

google docs kerning

google docs keep with next

google docs keeps disconnecting

google docs kanban

google docs keeps freezing

google docs keeps reloading

k-12 google docs

saiki k google docs

k-12 melanie martinez google docs

para k sirve google docs

google docs label template

google docs landscape

google docs logo

google docs link to section

google docs letter template

google docs labels

google docs latex

a.x.l google docs

uofl google docs

the l word google docs

l'immortale google docs

odio l'estate google docs

l'attimo fuggente google docs

google docs margins

google docs mla format

google docs mail merge

google docs menu template

google docs mac

google docs markdown

google docs movies

google docs mailing label template

m cream google docs

u of m google docs

insert m dash google docs

google docs new

google docs newsletter template

google docs night mode

google docs not working

google docs notes template

google docs not loading

google docs newspaper

google docs not spell checking

in google docs

in google docs how to delete a blank page

in google docs how to insert text box

in google docs how do you delete a page

in google docs voice typing option is available from

in google docs or on google docs

in google docs which is not a function of ruler

in google docs unterschreiben

google docs offline

google docs online

google docs offline extension

google docs outline

google docs on iphone

google docs outline template

google docs offline editing

google docs offline chrome extension

o google docs é

o google docs salvar automaticamente

o pintassilgo google docs

baixar o google docs

o extraordinário google docs

o iluminado google docs

o grinch google docs

o exorcista google docs

google docs powerpoint

google docs pdf

google docs page break

google docs pamphlet template